GSM Industrial's Precision Metalwork: Spotlight on Thermal Oxidizers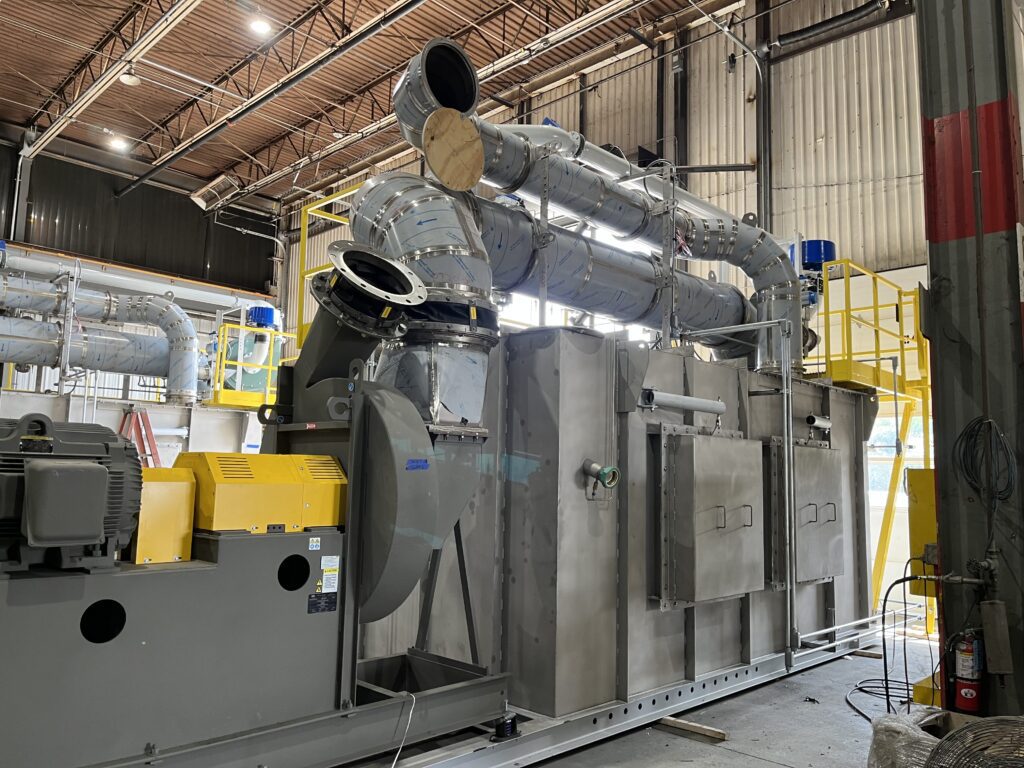 GSM Industrial: Commitment to Excellence in Metal Fabrication
GSM Industrial, an established name in metal fabrication, proudly presents its recent accomplishment: constructing four robust Thermal Oxidizers. Recognized for expertise in welding, industrial contracting, exhaust systems, and major plate fabrication, GSM Industrial consistently delivers quality, punctuality, and unmatched client satisfaction.
Project Overview
Type of Project: Thermal Oxidizers (4 Units)
Destination: 2 Units to Costa Rica; 2 Units to Malaysia
Completion Date: October 2023
Dimensions: Approximately 10' wide, 31' long, and 17' high per unit
Materials Used: Primarily Stainless Steel and Carbon Steel, complemented by Insulation and Galvanizing. Total materials weighed in at around 60 tons.
Understanding Thermal Oxidizers
In essence, a Thermal Oxidizer functions as an advanced air purification system. Its primary role is to neutralize Volatile Organic Compounds (VOCs) and Hazardous Air Pollutants (HAPs) by heating the incoming air. Stainless Steel, known for its heat resistance, is the primary material for the main components. Insulation is added to optimize performance, while the cooler base and platforms are made of Carbon Steel with a protective coat to ensure longevity.
Project In-Depth
The project began with the creation of the primary bodies of the Thermal Oxidizers. As requirements evolved, the scope expanded to incorporate heat exchangers, platforms, piping, Stainless Steel ductwork, and tubing. While the majority was executed by GSM, specialized tasks, particularly in electrical and insulation, were managed by trusted subcontractors.
Challenges and Solutions
Every extensive project has its challenges. Adapting to evolving blueprints and coordinating with various subcontractors added layers of complexity. Additionally, strict timelines and a series of tasks tested GSM's flexibility and efficiency. But with dedication and expertise, these challenges were systematically addressed.
The Distinctive GSM Touch
What differentiates GSM Industrial from the rest is the meticulous approach to complex projects, identifying potential challenges and transforming them into opportunities. By leveraging both our in-house resources and field experts, GSM ensured timely project progression. On certain occasions, our field specialists even transitioned to workshop roles to ensure continuity and adherence to crucial deadlines.
Why GSM Emerged as the Ideal Choice
This project wasn't just a task; it was a reflection of GSM's multi-faceted capabilities. Developing a fully functional Oxidizer from ground up showcased GSM's core strengths: handling intricate assignments and delivering comprehensive solutions from inception to completion.
GSM's Competitive Edge
GSM Industrial's strength extends beyond mere fabrication. The commitment to proactive collaboration with clients, adaptability, and a team-driven approach ensures not only completion but excellence in every endeavor.
What Lies Ahead
This successful project is a testament to GSM Industrial's prowess in the field of metal fabrication. It lays the groundwork for future endeavors, emphasizing a continuous commitment to quality and innovation.
Utilizing a harmonious blend of Stainless Steel, Carbon Steel, and unmatched craftsmanship, GSM Industrial continues to champion excellence, particularly in Thermal Oxidizers and similar projects.
Contact GSM Industrial for more information regarding our Turnkey Solutions.