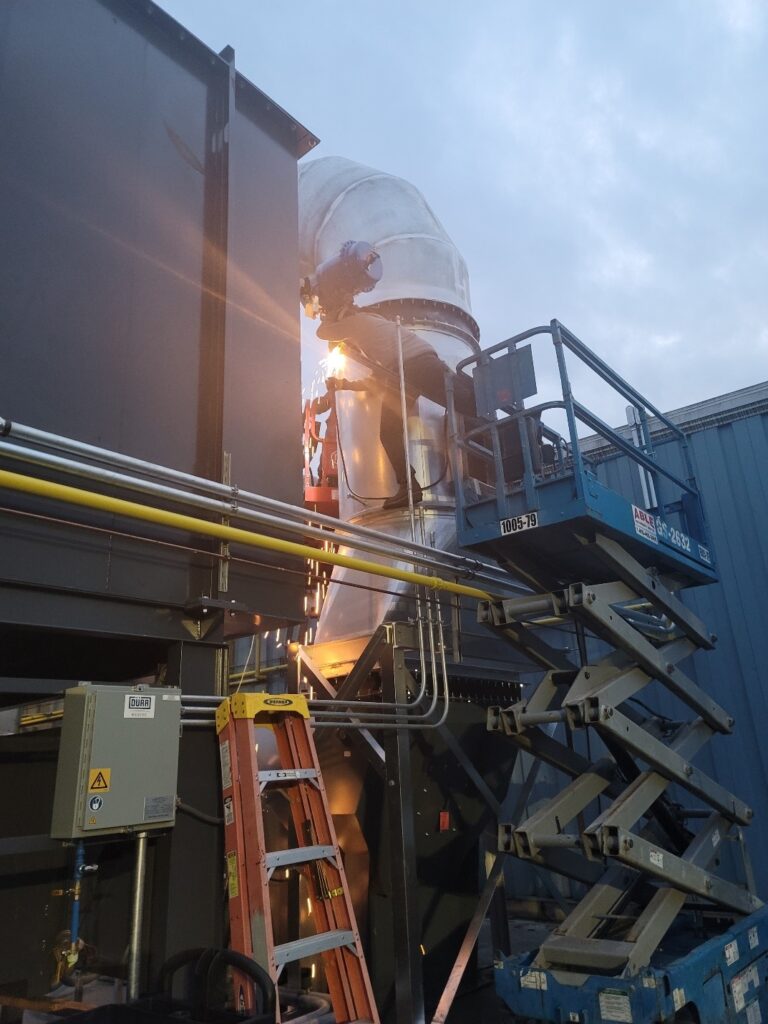 What You Can Expect When Partnering with Us
When you choose to work with us for Regenerative Thermal Oxidizer installation, you're not just purchasing an RTO system but gaining a reliable partner dedicated to your success. We pride ourselves on providing exceptional customer service and delivering innovative solutions that exceed our clients' expectations. Here's what sets us apart:
Rigging to Set the RTO in Position: We have the experience to safely move and properly position the Regenerative Thermal Oxidizer (RTO). This complex task requires expertise and precision.
Designing, Building, and Installing Ductwork: This step involves creating the ductwork layout according to the specific needs of the RTO system, designing and fabricating the ducts, and then installing them properly for optimal performance.
Air Hook-Ups: These connections supply the required air to the RTO system. It's crucial that these are done correctly to ensure the efficient operation of the RTO.
Gas Hook-Ups/Lines: Similar to air hook-ups, these connections supply the necessary gas to the RTO system. Proper installation ensures safety and prevents potential leaks.
Exhaust (Mission Stacks) Design, Build for RTO: We will design and fabricate the gas emission stacks for the RTO system. These stacks are responsible for safely venting the gases processed by the RTO into the atmosphere.
Safety Ladder Access and Platforms for Maintenance: These are essential structures built to provide safe and easy access to the RTO for routine maintenance and inspections. You need quality safety platforms that are compliant with OSHA, MSHA, and municipal standards. Our team, comprised of seasoned metal fabricators, offers custom solutions for your safety ladders and platforms, taking field measurements and creating shop drawings to meet your needs.
Industry-Leading Expertise: With years of experience in the field, our knowledgeable team is well-equipped to handle even the most complex and demanding projects.
We Will Travel to You: Whether you need RTO installation services in Maine or Texas, we will bring our expertise. We've installed these systems for manufacturers all over the US.
Quality Assurance: We adhere to strict quality control standards throughout selection, preparation, and installation to ensure your RTO system performs optimally.
Ongoing Support: Media changeouts with your RTO system are inevitable, and we have that covered. We offer this ongoing maintenance service to keep your system running smoothly for years to come.
Don't wait any longer to start enjoying the benefits of a cleaner, more efficient workplace. Contact us today to discuss how our expert Regenerative Thermal Oxidizer installation services can help your business reduce emissions, comply with environmental regulations, and save on operational costs. Together, we can positively impact the environment and your bottom line!