GSM Industrial's Exceptional Stainless Steel Tank Project in Lancaster, PA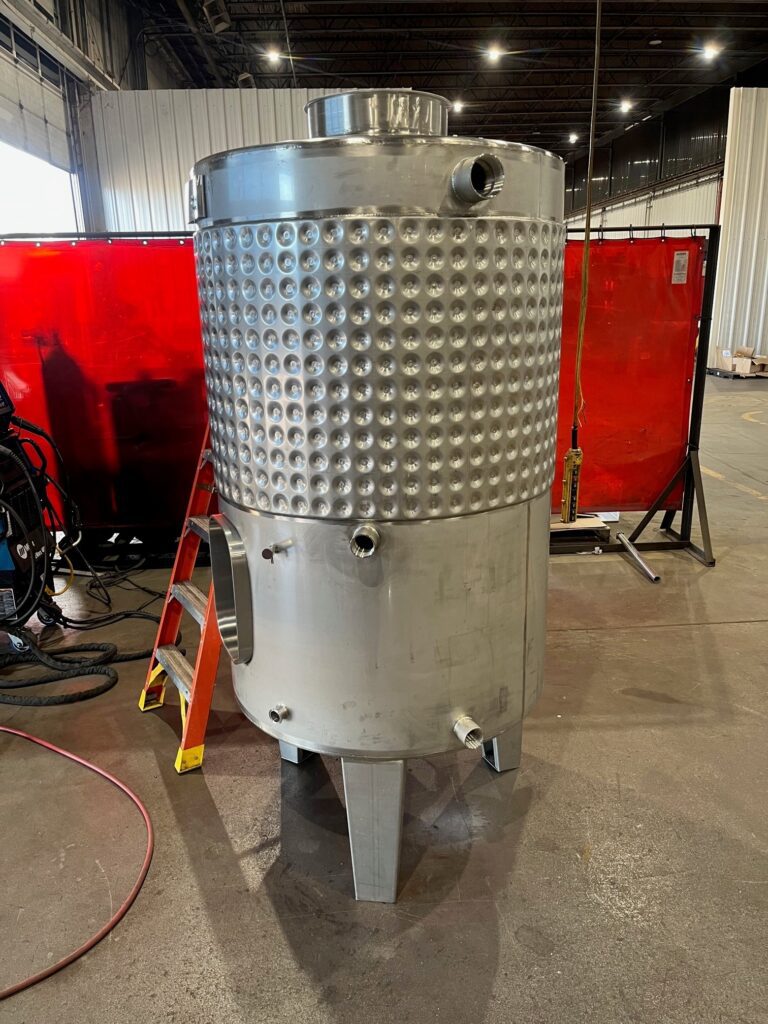 Project Overview: Innovative Repurposing of a Stainless Steel Tank
GSM Industrial, renowned for our commitment to Exceptional People and Exceptional Results, has once again demonstrated our expertise in the field of stainless steel tank modification. This profile showcases our recent project in Lancaster, PA, where we successfully repurposed a 400-gallon stainless steel tank, enhancing its functionality and extending its service life for our client's critical processes.
Project Scope: Expert Stainless Steel Modifications
The Challenge: Adapting a Stainless Steel Tank for a New Purpose
The task at hand involved intricately cutting off existing fittings and pipes from the stainless steel tank and welding new ones to adapt the tank for a novel application. Given the tank's dimensions, 8 feet tall and 4 feet in diameter, the endeavor required precision and innovative engineering to attach new fittings without compromising the tank's integrity. The GSM Industrial team, known for their exceptional capabilities, rose to the occasion, delivering not just a modified tank, but a revamped solution tailor-made for our client's requirements.
Our Approach: Exceptional Solutions by Exceptional People
Confronted with spatial constraints and the critical need to maintain the tank's 304 stainless steel integrity, GSM Industrial's team showcased their exceptional problem-solving skills. We employed on-the-fly design adjustments and creative welding techniques, ensuring that the tank was not only functional for its new purpose but also met all the rigorous industrial standards.
Project Impact: Enhanced Industrial Wastewater Processing
How GSM Industrial Delivered Exceptional Results
Our customer's facility in Lancaster, PA, processes industrial wastewater and waste oil/water mixtures using a three-stage Dissolved Air Flotation (DAF) process. The GSM-modified stainless steel tank now plays a pivotal role in this process by providing an additional 2 ½ minutes of reaction time for a polymer-coated clay chemical, thanks to its 396-gallon capacity and the continuous flow system running at 150 gallons per minute.
Why GSM Industrial?
Exceptional Expertise in Stainless Steel Tank Repurposing
This project not only reflects our exceptional welding and design skills but also our ability to deliver turnkey solutions that save our clients time and resources. By modifying the existing stainless steel tank, we provided a cost-effective and efficient alternative to purchasing new equipment.
GSM Industrial: A Cut Above the Rest
When it comes to stainless steel tank modifications, GSM Industrial stands out with our exceptional team of experts. Our project in Lancaster showcases how we leverage our exceptional problem-solving abilities, technical skills, and creative thinking to deliver results that our competition simply cannot match.
In Conclusion: Exceptional People Delivering Exceptional Results
This stainless steel tank modification project is a testament to GSM Industrial's ethos: Exceptional People. Exceptional Results. We pride ourselves on tackling challenging projects with innovative solutions that exceed our clients' expectations. Let us bring our exceptional skills to your next project and achieve results that speak for themselves. Contact GSM Industrial today!