by John Kleinfelter, VP Field Services
Access platforms, stairs, overall safety equipment, and compliance with OSHA standards, truly enhances the convenience of working with a top-notch design and fabrication team.
Your boss thinks dropping more projects on your plate is like eating ice cream; there is always room for more. I get that. After looking at the pile of unfinished projects, perhaps you are wondering; "How am I going to get it all done?" For you, working with a company that performs its own design, fabrication, and installation services, and one that values protecting it's customers best interest by utilizing safety equipment, means more projects done in less time. It also means fewer headaches, and lower cost. One call, one purchase order, that's it. Problem solved.
Quick-thinking Contractor Solutions
We are living in a crazy, fast-paced world these days. A lean management staff absent of an engineering group just makes matters worse for you. Outsourcing your design, fabrication and installation requirements and not having the internal resources to procure a formal bid package means you need to find a contractor that can think on its feet. That's why we are here. It's our niche. GSM will work with you from scratch, develop concepts, and solve your fabrication and installation challenges: safely.
Custom Designs Done Right
Once I was asked to sum up what GSM does in one sentence. I struggled, thinking the answer was going to be a run-on sentence. I thought about what GSM's host of repeat customers value the most, and the answer to the question became rather apparent. "GSM makes your problems go away." Not the kind of problems that involve atomic fusion or working with the Hadron Collider. No, I'm talking about practical challenges like custom-design and installation of safe access platforms and stairways that meets current OSHA standards.
Our design team is top-notch and has the capabilities to deliver the latest technologies in your design needs. A few benefits to working with our design team include:
A One-stop Shop: We design, build, and install projects (including retro-fit types)
Safety-Minded: GSM takes safety equipment seriously by sticking to OSHA regulations
Convenience: We visit your job site and collaborate with you
Accuracy: We take field measurements to develop a project concisely
Support: We make general arrangements, as well as create a professional layout and detailed drawings so you feel confident with the design
Resourceful: We prepare drawings utilizing the latest in 2D and 3D CAD tools for fabrication and installation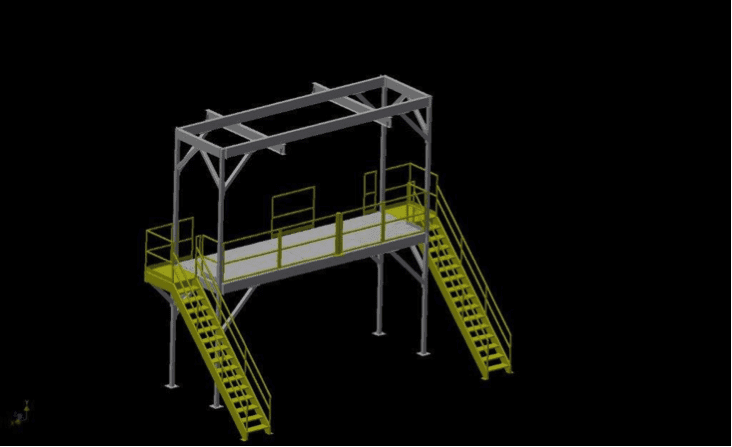 Efficient and Cost Effective Resources
A picture is worth a thousand words. We've all heard that cliché a thousand times, but it's especially true in the design and drafting world. That's why GSM works with the latest 3D software including SolidWorks and AutoCAD Inventor. Working in 3D allows us to render models during the design/conception process and gives you a much greater understanding of what we are proposing. Here are a few other benefits we can bring to you, using these latest technologies:
Validate your design with powerful simulation
Time saving, rapid creation of parts and assemblies
Ability to retain electrical intent utilizing cable and harness design
Flexibility, free-form modeling shape creation
Efficient, rules-based design saves assembly time
Ability to work with, and interpret other CAD files
Next time you feel beat like a rented mule because you just don't have the time or resources available, call on GSM. We can help make your problems go away. That's what you get out of this deal.
Contact us today to help get you started! Call us at 717.207.8985, Monday – Friday, 8:30am – 4:30pm ET.