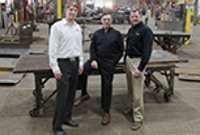 By Heather Stauffer, Central Penn Business Journal
On Jan. 1, Brian Dombach will become president of GSM Industrial. He won't just be the first new president the East Hempfield Township metal fabrication and installation company has ever had. He'll also be the first president who's not an owner.
Jim Towers has been leading the business since 1974, when it was a division of GSM Roofing. In 1983, GSM Industrial became a separate entity but still, like GSM Roofing, was a part of the Gooding Group LLC, with majority ownership by John Gooding. The Towers family is also part of GSM Industrial's ownership team. "You read a lot of things about companies where somebody hangs on too long," said Jim Towers, 64. He didn't want to be that person.
One of Jim Towers' sons, David, works at GSM Industrial as an account representative and is intensely interested in the future of the company. He's 29, and there's something he doesn't want to be: The person who gets something just because of his last name.
"I don't know if I even want to be president at any point, and certainly not in the near future," said David Towers. Currently, he said, "I think I have many more strengths in a managerial-type role than as someone who's behind the numbers and that kind of thing."
So the leadership of GSM Industrial started thinking about the future, learning from speakers and fellow participants at Elizabethtown College's S. Dale High Center for Family Business and observing as GSM Roofing successfully navigated leadership transitions.
During the last few years, the landscape became clearer. The economy hit the company hard in 2009 and 2010, but although the company scaled back over that time, its leaders also decided to hire Dombach to help with sales and business development and invested in redoing its website.
Business has been picking up since then, but Jim Towers saw an abiding change. "Back in what I'll call my heyday years, the challenge was getting the work done," said Jim Towers. "Now the challenge is getting the work."
"He took the company from seven people in 1983 to where it is now: 90," said David Towers. "There's just a point at which I believe some additional marketing needs to come into play, better SEO, just much more digital strategy. I think that's what Brian has experience in, and he can really lead us to the next stage."
But, the Towerses said, the most important consideration was that Dombach fit the values and culture of the company. "One of our goals has always been to provide meaningful employment to as many people as we comfortably can," said Jim Towers. "There are still people out there who come out of high school and don't have the desire to go to college, but they're still good, hard-working people, and that kind of job is going away in this day and age.
"If we can provide people who can work with their hands and don't mind getting dirty a little bit the opportunity to earn a good living, we want to do that." They liked what they saw in Dombach, 46, and two years ago he became executive vice president and general manager.
"We found the gold needle right here under our noses after looking around," said Jim Towers.
Things are going well, Jim Towers said, and on Jan. 1 he will become vice chairman of GSM Industrial and Dombach will take the reins as president.
"I'll be in an advisory capacity, but definitely giving up the day-to-day decision-making," Jim Towers said. "I very much don't want to step on Brian's toes."
Dombach, in turn, said he recognizes the importance of the responsibility he's about to assume, which he sees as serving the owners. But, he said, "I've been saying I'm up for the challenge. It's something that I feel I've been prepared for and something I've wanted to do." There's no set time on Dombach's tenure as president, but the three said 15 to 20 years is definitely a possibility. "By then, there will be 150 or 200 people involved, probably, dependent on a paycheck," Dombach said. "It'll be interesting to see what kind of president we need in 15 or 20 years. It would be foolish to think that we even know what that's going to look like — it's so dynamic. Who knows what we'll be doing 20 years from now?"