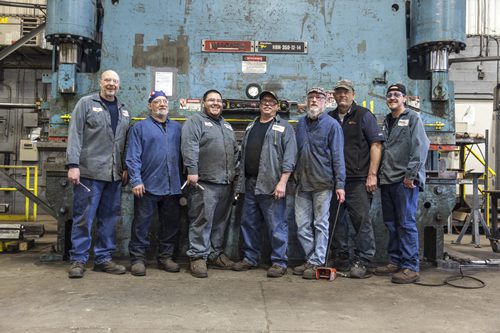 Over the past three years, US manufacturing companies have begun to bring their operations back to US soil through reshoring. The new strategy has not only increased US manufacturing jobs, but has also boosted manufacturing here in Pennsylvania. Jeff Kramer, Business Development for GSM Industrial says, "GSM Industrial has definitely seen strong, correlating, growth. GSM Industrial, which serves other manufacturers in the area, has increased sales by 23% over that last three years" Because we are known for our strength in safety, experience and flexibility, we are pleased to see these improvements being made.
Our opinion is that, the strongest of companies are ones that not only expect change, but who are structured to be easily flexible and adapt when economic changes occur. Many manufacturing companies that once considered going offshore because of decreased costs and efficiencies are now bringing their operations back to America.
Why Are US Companies Reshoring Manufacturing?
As new companies have been cropping up in the US and building new, more cost effective facilities, or renovating existing factories to meet modern standards, operating costs have become level, or below those offshore.
Changes to the facilities have definitely helped bring business back, but overall costs in manufacturing such as raw materials and labor have helped to even the playing field.
Offshore Workers Request Higher Wages
Factory workers in other countries, such as China, have begun to demand higher wages. These demands have increased the overall production costs of many companies, forcing them to revisit where they place their manufacturing.
The Cost of Shipping
There's no surprise that the cost of shipping has gone up. Not to mention the fact that with all the offshore activity, shippers have had an advantage and have increased their prices. Fuel also plays a part and has added to the rising costs.
Distance Creates Frustration
As you can imagine, there are several reasons why offshore manufacturing has become frustrating at times. Here are a few of the major reasons:
The time difference – when it's 12pm Wednesday here, it's 12am Thursday there. Having to wake up in the middle of the night for either party is not ideal.
Language barrier – dealing with one or several other languages can really hinder communication and end up costing companies thousands, if not millions of dollars.
Travel – back and forth trips to offshore locations to meet the factory representatives or producers gets pricey, and the more complications, the more trips.
Intellectual property issues – It's hard enough here in the US to enforce this let alone in offshore locations where it's almost non-existent. Also, a lot of factories are producing for several companies so who's to say that your competition isn't using the same manufacturer?
Delivery delays – overseas travel takes much more time and is not as frequent as air or land travel, which delays product delivery.
Keep It Simple
Many US companies are going back to the basics in order to keep things simple and lower costs. Aside from reshoring, lean principles are another strategy a lot of companies have taken advantage of and have had positive gains from. Lean means removing waste from your business by becoming more efficient, more profitable, and by delivering a better quality product to your customers.
We, here at GSM Industrial utilize lean principles throughout our business at every level and it has improved our value to our customers. It has allowed us to not only retain our long-term customers, but to be able to offer new customers a better product, less headaches, and a convenient one-source partnership. Contact us today to find out more or to give us a call at (717) 207-8985!