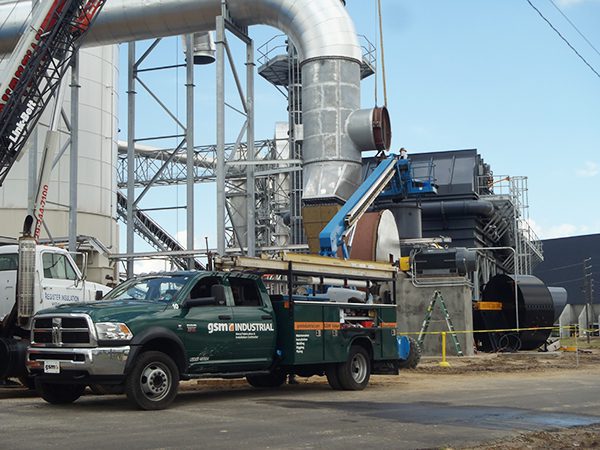 Pollution Control is a Primary Function of GSM Industrial.
As OSHA and environmental regulations change to protect air quality, your company's pollution control becomes an inherent part of any industrial enterprise. At GSM, we go into some of the most hazardous areas to install machinery and fabricated systems.
What most people don't know is the majority of GSM Industrial's business involves manufacturing and installing pollution control equipment and environmental technologies that improve the safety and environment for our customers.
"Roughly 70% of our sales year-to-date can be directly linked to environmental technologies. I would say that percentage is typical," states Jeff Kramer of GSM. These technologies apply to a wide customer base of OEMs, manufacturing facilities, and municipal sites.
So, what do these technologies improve?
Air Quality

Reducing harmful emissions of battery acid into the atmosphere
Improving air quality for workers from harmful dust, fumes and other foreign objects found in a wood product shop.

Water Quality

Manufacture and install a wide range of technologies for numerous Original Equipment Manufacturers (OEMs)
These technologies are in both the waste and clean water industries (we installed 2 miles of piping in an old contaminated industrial park in order to filter the ground water)

Waste

We do work for companies that take waste or byproducts from one industry and recycle it into another product to be reused for many applications, like mulch or gravel.
GSM Industrial has the capability to not only design and manufacture these systems, we also install them. We also fabricate and install other system components for these projects to include structural steel, ductwork, silos, etc. for multiple pollution concerns.
Air Pollution and Ventilation
Many of these systems address air pollution control and ventilation. Some of the different systems that our customers order include Regenerative Thermal Oxidizers (RTO), Dust Collections Systems, Classifiers, Cyclones, Incinerators, Scrubbers, and Emission Stacks.
These systems usually fall into one of four categories:
General Ventilation includes Make-Up Air and Exhaust systems that range from no loss stacks to industrial fans and ductwork that provide the optimum climate for workers.
Air Pollution Control requires detailed planning to maximize efficiency and cost savings when building custom thermal oxidizer equipment.
For Fume Control, GSM takes the recommended control filter and determines the optimal location and the best delivery system to optimize safety and cost effectiveness.
Dust Collection includes particles from silicates and sawdust to food byproducts. Dust collection becomes an important part of worker safety in most industrial environments.
Water Quality and Waste Recycling
Water quality is an issue on many levels. Whether it is handling wastewater from your facility or protecting the large bodies of water in areas like the Chesapeake Bay, we regularly work with equipment suppliers and waste water engineers to create wastewater treatment equipment that is customized to the specifications and needs of our industrial and municipal customers.
The manufacturing and fabrication capabilities at GSM Industrial allow us to work with you to plan and create not just your equipment but the designs and processes for the whole project. Whether you are using custom ASME Vessels, Slurry Tanks or Thermo Blenders, GSM can build the machinery as well as making the pipe assemblies and related steel structures to support them.
The United Nations (UN) has estimated that the amount of wastewater produced annually is about six times more water than exists in all the rivers of the world. We are fortunate to be in a position where we can address the waste water concerns that our world faces. As a single source partner, GSM is able to help industries and municipalities like yours become part of the environmental solution. So when you think of green, it's not just wind and solar, it's also steel products fabricated – right here in Lancaster – that help the environment, improve air quality and, most importantly, make your industry a healthier place to work.
To learn more, visit our Air Pollution Control and Wastewater Management pages, give us a call at 717-207-8985 or contact us online to request a quote.