A triple threat in theater is when an actor can act, sing, and dance, and a triple play in baseball is when a team gets three outs with one play. So, what is a triple play industrial contractor?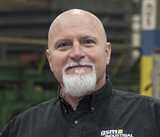 One like GSM Industrial that can handle many things under one roof, such as the design, fabrication, and installation. Denny (pictured on the right) who has been with us for over 27 years, explains that our advantage is that we can help our customers who don't want to hassle with more than one vendor. They just want a single-source partner.
The 5 Benefits Of a Single-Source Industrial Contractor
Your entire project is in our hands. So, in the end, all you need to do, as the customer, is start up! How easy is that? Think about all the time you'd be freeing up in your schedule to produce more, while turning these projects over more efficiently keeping you, and your boss, happy.
Benefit 1: One Point of Contact. Communication is key in any scenario. No phone tag here. We keep it simple and streamlined. One company who does it all and one point of contact. No finger pointing between companies either.
Benefit 2: Experienced Designers, Integrated with Experienced Shop Fabrication, which Feeds Experienced Field Crews. All three work together day in, day out on many projects. Now, doesn't that sound better than working with three different companies?
Benefit 3: Changes Made Easy. With a one-stop-shop like us, you don't need to worry about having to make changes, or having it cost more or take more time. Changes are easy when everyone working on the project is under one roof. Efficient and convenient all rolled into one.
Benefit 4: Cost Effective. It's a win/win if we design a solution that fits your need and fits best in our shop. It all starts and ends at one location, so during the process if we notice a design change that can be made to decrease the time it will take to build the equipment, we can chat right on site with the operator and reach a cost effective solution for the customer.
Benefit 5: Superior Quality. When you have one good company handling all aspects of your project from start to finish, you know they are carrying those same high standards throughout all project touch points of design, fabrication and installation. It lowers your risk of having to deal with one good vendor vs. one, not so good vendor and hoping that their visions and expectations align.
So Many Options, But So Little Time
When manufacturers in our area need to move equipment, install an oxidizer, re-route ductwork or install a new equipment mezzanine, they have plenty of options. There are multiple installation contractors, as well as fab shops. There may even be an engineering firm that could help out, but who wants to pay those rates? We have found that many of our customers have had to cut in-house engineering staff or have other projects for their limited staff to work on.
Sometimes manufacturing engineers and shop floor leaders know what they want but just don't have the time to put it down on paper. And even if they did, they probably don't want to mess around with taking exact field measurements and detailing drawings that can actually be used by the fab shop. That's where we come into play.
The Secret To Our Sauce
Our team consists of in-house designers (7 to be exact) with an average of 23 years between them. Plus 2 Engineers with 22 years and 17 years experience. Even our youngest designer has 10 years under his belt detailing and running projects, and when questions arise, he's within arms reach of our 45 year veteran of the industry. They have the ability to come to your shop, work from your chicken scratch napkin sketch, or just a hand wave. We prepare the conceptual drawings for approval, detailed drawings for fabrication and the 3D models if required.
Then it is turned over to our fabricators. We design for efficiency in our shop. You know that each shop is different, and there are many ways to make a platform that is compliant and will do the job. However, we can get drawings for the same thing from 3 different engineers and some are just a better fit than others.
The same principle applies when our shop turns it over to the field crew. Our 25 men in 8 fully equipped welding trucks can install ductwork as well as anyone – I guarantee it. Imagine not having to coordinate a single delivery or crane setup. Our project manager is in constant communication with the shop and our own truck driver to make sure that the crew, the crane and the truck all show up at the right time, at the right place.
We Pride Ourselves on Getting It Right
So what if something goes wrong. Maybe your process engineer makes a change. Maybe a measurement was off (yes, mistakes are made on occasion). Was it installed wrong? Was it cut, formed or welded different than the print? Was there a mistake on the print?
Here at GSM Industrial, we pride ourselves on making things right. Our team will do whatever it takes. Stay late on the site for needed adjustments, rush a job through the shop to get the right piece on site tomorrow, and even go as far as to send a designer back out the same day to figure out an alternative. Yes, this is just one of the benefits we provide to the job and to our customer's satisfaction.
So the next time you need help with your industrial project, let GSM take a look from the beginning. A no cost evaluation will help you determine if our combined talents will make sense for your business objectives.
Contact Us
Give us a call at 717-207-8985, or contact us today! We're ready to help you reap the rewards and walk away with a fantastic experience.