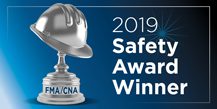 On April 19th, GSM Industrial received the 2019 Safety Award of Merit from the Fabricators & Manufacturers Association, International (FMA). The FMA/CNA Financial Annual Safety Awards grants this honor to metal fabrication companies that practice excellence regarding safety in the workplace. This recognition is awarded to companies with a better injury and illness incidence rate than recorded in the Bureau of Labor Statistics, based on NAICS code.
Edward Youdell, President and CEO of FMA, states: "I congratulate GSM Industrial on winning a Safety Award of Merit. Safety is clearly a priority for the company. They set a good example for others in the industry. FMA and CNA are proud to recognize all our safety award winners."
GSM Industrial offers thanks and gratitude to our diligent staff. We are proud of the dedication that our team has when it comes to upholding safety standards in the workplace. GSM Industrial would also like to thank FMA for their recognition and support.