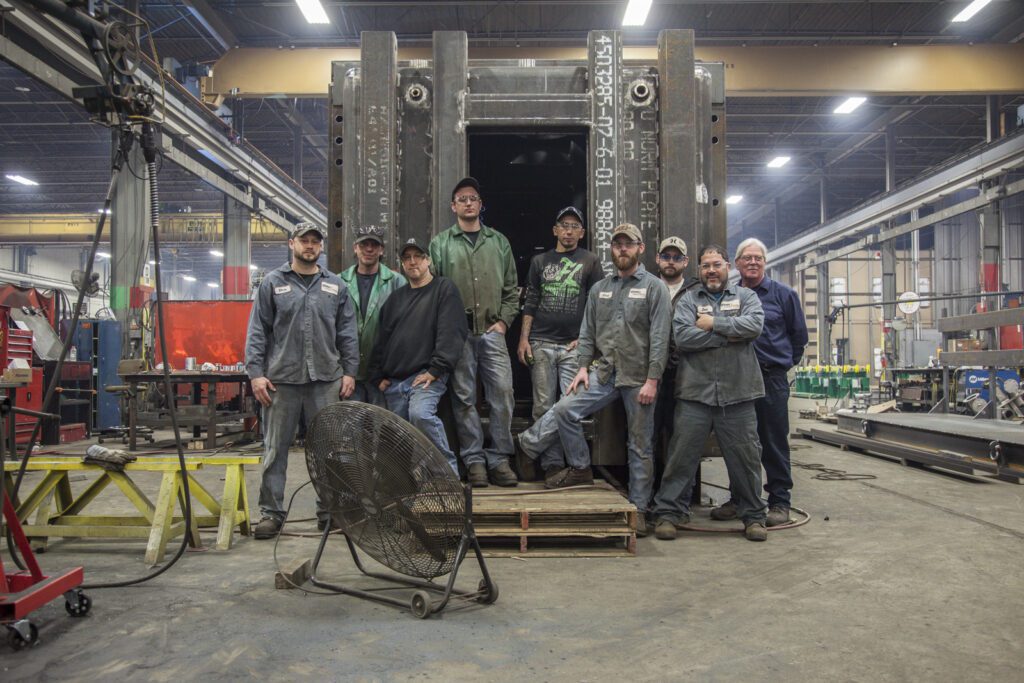 Throughout 2017 we have been very busy and blessed by our valued customers. We have grown with them by continuing to reinvest in our company and our people. As the year comes to an end, I'd like to take the time to recap what made 2017 so successful for GSM Industrial and what our customers can expect in the coming year.
Leadership
In 2017, we made improvements to our leadership team with the addition of a new team member and promotions for two of our existing team members. Robert Blauser has been brought on as our Vice President of Operations: Jeff Ream, our Vice President of Fabrication, has been promoted to Vice President of Sales; and Mike Towers has been promoted to Vice President of Finance and Administration. We believe these changes will lead to greater effectiveness for GSM Industrial in the coming new year.
Expansion
This year we have continued to invest in our capabilities by adding a much-anticipated clipper machine to our manufacturing floor to better serve our customers. Check out the Ocean Clipper CNC Angle Line here.
In 2018, we'll be looking to rearrange our shop floor in a manner that improves both efficiency and throughput. We will also be focusing on expanding our second and third shift capabilities to meet our customers' needs.
We're also welcoming back Nick Wagner in the coming year as our Installation Field Mechanic. Nick, a shipmate of the United States Coast Guard, has been honorably serving our country this past year in Guantanamo Bay, Cuba on a Maritime Security Detachment.
Longevity
One thing we are always celebrating here at GSM Industrial is our long-term employees. This year we welcomed two new members to our 25 year club, Kevin Ivy and Ron Knepper. Twenty six employees have now reached this celebrated milestone. Also, around 41% of our employees have now been with us for 10 years or more. Knowing our employees enjoy coming to GSM Industrial every day and are able to provide our customers with consistency gives us a great sense of pride!
Community
Another topic of pride is our continued investments in our community. This year we had the opportunity to work with the Hempfield Rec Center – a community based, non-profit organization that serves more than 1,000 children and families. We partnered with other companies in the area to help rebuild their tennis pavilion, one of the most popular features of the center.
Upgrades
Earlier this year we invested in upgrading our servers and communications hardware and implemented a full-blown ERP (Enterprise Resource Planning) System to integrate applications across our business. As can be expected we did experience a few minor hiccups that typically come with new software, but we are now able to supply our customers with more accurate and consistent information. The software runs in real-time making our process more transparent.
Our Future
Our team is looking forward to 2018 as there continues to be growth in the manufacturing sectors. Metal prices are holding with a slight possibility to increase in the New Year. Overall, the steel materials forecast looks solid going into 2018. While labor rates are increasing we have been able to offset those costs by recruiting top-notch talent and developing more efficient processes, allowing our project pricing to remain similar to this past year.
With that being said, we are excited to see what the New Year will bring to GSM Industrial and our customers. 2017 has been a great year for our team and we hope for you as well.
We'd like to express our gratitude and wish all of you a Merry Christmas and a Happy New Year!