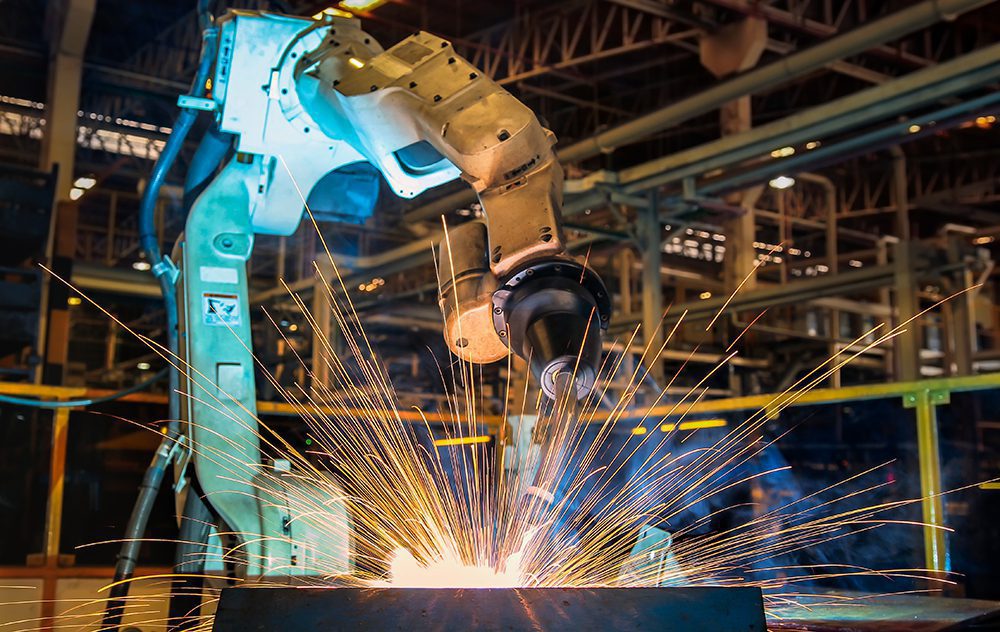 Each and every day new technologies are emerging that have the potential to disrupt our daily lives. The manufacturing industry is no exception. At GSM Industrial, we are constantly looking toward the future and how we can best utilize and prepare for these changes in technology.
Three major disruptive technologies on the horizon for industrial manufacturing include 3D printing, robotics, and artificial intelligence. Let's take a look at how these could potentially change our industry.
3D Printing
3D printing, also referred to as Additive Manufacturing (AM), is the technology used to build three-dimensional objects by adding layer-upon-layer of material. This technology was predominantly used to produce prototypes and models and often seen as more of a novelty tool than a practical one. 3D printing is currently in transition to become a major part of the manufacturing process in a wide range of industries.
General Electric, in particular, has been putting 3D printing to great use. They recently developed a working jet engine made entirely of 3D printed parts. They've also announced their plans to develop the world's largest 3D printer that will print metal.
The possibilities of 3D printing technology are endless for manufacturers. Because the technology is "additive," manufacturers are able to use the minimum amount of material needed to fabricate a part. This eliminates the need to pay for material that ends up not being used. 3D printing will have a significant impact on the machining and casting industries specifically. And by 2020 the 3D printing industry is expected to grow to $5.2 billion.
Robotics
Industrial companies have been adding robots to their facilities for decades. Robots make great candidates for tasks that are repetitive, dangerous, difficult, or take place in a hostile environment. According to the Brookings Institute, although employment in U.S. manufacturing has significantly decreased in the last 20 years, workers are now producing 47% more due to robotics and automation.
The addition of robots helps make North American companies more competitive in the global market as well as restore manufacturing work to the U.S. Not only are these robots able to handle more of the dangerous jobs to protect our workers, but they can also create efficiencies that humans cannot. Many have the ability to operate 24/7 in lights-out situations and perform complex functions.
The robotics industry has also introduced the co-bot, a collaboration robot. These robots work as assistants to their human counterparts with the ability to learn tasks simply by observing humans and repeating tasks. Co-bots will likely be one of the fastest growing markets within robotics.
Artificial Intelligence (AI)
Artificial intelligence is intelligence demonstrated by machines, and it is finding its niche within the manufacturing industry. A huge advantage of AI for the manufacturing industry is predictive maintenance, the ability to gather data from multiple and varied sources (The Internet of Things), combine it, and use machine learning techniques to anticipate equipment failures before they happen. AI can predict a part failure with a high degree of accuracy and has the potential to save companies $630 billion over the next fifteen years.
The prediction capabilities of artificial intelligence can also be used in the supply chain, with algorithms that can perceive patterns of demand. Its ability to project market demand could drive human staffing, raw material sourcing, financial decisions, inventory, and energy consumption. These AI algorithms will change the way we make complex decisions within the industry.
While some aspects of these emerging processes seem daunting, there are just as many that seem to work in the American job market's favor. Operating costs are likely to decrease as well as the number of workers needed to develop the same products, while capacity will substantially rise. In the words of Former Secretary of State George Shultz, "It is becoming more possible to produce the things you want close to where you are, so advantages of low labor costs are disappearing." There are pros and cons to everything but what will be most important with these emerging technologies is our ability to adapt. We're looking forward to exploring the future of industrial manufacturing with you.